Have you made video part of your content strategy yet?
If you haven't you need to read on to find out how to stop missing out on this important traffic strategy. 
And if you are using it already, we bet you could do better with some of these tools and techniques.
Hey, we can practically hear some of you groan through your screen!
"But, I can't go on camera."
"It's so much work." 
"I don't think people will like what I have to say!"
Whatever your feelings are on it, there is a growing body of evidence to show that if video isn't already part of your content it should be, so you can drive more of the right traffic (those that already have a connection to your brand and are pre-screened to say yes to what you have to offer).
Now, if you're a person who really feels that they can't get in front of the camera, we will show you ways you can still use video content shortly, but first up, here are a few stats you should be aware of…
Click here to tweet >> By 2018, video traffic will make up 79% of all consumer internet traffic.
(Cisco)
Click here to tweet >> Over 6 billion hours of video are watched each month on YouTube—that's almost an hour for every person on Earth.
(YouTube)
Click here to tweet >> 76% of B2B marketers use video content marketing.
(Brightcove via ReelSEO)
In short, video is HUGE and it's only growing. If you need further convincing to start creating videos for your business, we have prepared a guide of 19 video creation tools. The best part? We've picked these based on ease of use and affordability…
Here are 19 Video Tips to Create Professional Videos that Attract Fans and Buyers:
Did you notice how huge those video numbers are? That means that in order to stand out in a very crowded ocean, you need to give a bit of thought to delivering video content that your target market wants to see. Apart from ensuring that your videos have a brand-consistent objective, story and voice, here are some easy tips and tools you can start using today to get better results.
Video Content Marketing Ideas
Find out the latest trends in what people are watching online.
This is a pretty cool and often under-utilized tool. YouTube dashboard allows you to track what's being viewed and shared around the world, including drilling it down to your country/city and age demographic. There is also a comparison tool which means you can check out how one country or city stacks up next to another. This will give you a fair idea of the types and styles of content people enjoy watching so you can keep that in mind when creating your own videos.
Let the market tell you exactly what they want.  
Review your website analytics and determine what pages and blog posts are the most popular and what search terms people are looking for to find your site. This will give you an idea of what topics will be the most beneficial to cover when putting together a video content marketing plan. This article from Social Media Examiner explains how to use the Google Analytics Behavioral Reports to optimize your content.

Video Creation Equipment
3. Your Phone
Most smart phones now film in high definition video. 
If you want a low-fuss, high quality option for filming, your iPhone or Samsung Galaxy are quite capable of doing the job. On the latest versions you can shoot HD movies on your iPhone using iMovie, which is free built-in software, or check out the selection of apps at Google Play for your android.
You should also invest in a tripod and a phone tripod mount to hold your device steady while filming. Check out the image below to see what we mean.
Now all you need is a microphone that is a better quality than what is built in.  We recommend the Smartlav. You simply plug this into the headphone jack of your device and clip the mic onto your shirt.

4. A Video Camera
Video cameras can offer more options and settings than your phone.
Cameras can be as complicated as you like and of course the sky is the limit in terms of cost. With the average small business in mind, we decided to take a look at what you can get for less than $500 if you decide to shoot video on a camera instead of your phone.
Here is a sample of the better options:
Canon Vixia Mini X ($339 – $399) – designed with video bloggers and musicians in mind, this  is a camcorder with high quality audio, full-format HD video and a 12.8 megapixal sensor. There are a number of ways to angle and stabilize the camera, but it is perfect for desktop use and the enhanced audio makes it an attractive option. It is also lightweight and has remote panning functionality, meaning you can shift the camera angle up to 200 degrees left to right or 20 degrees up and down using an app.
Nikon D3200 ($379 – $479) – This is a DSLR camera at the low-price end, which includes 1080p full HD movie. The wireless mobile adaptor means you can instantly share with your mobile or tablet.
Fujifilm X-A1 ($429 – $499) – Mirrorless camera which will also take high-quality photos which come close to the quality of more expensive DSLR cameras. This camera also has 1080p HD movie and the option of interchangeable lenses. Wireless technology means you can upload straight to your smartphone.
One of the most important things about choosing a camera is that you are comfortable with operating it. Choose a camera that will deliver good video according to your needs and won't be too much hassle for you to use.
5. Microphones
People expect good sound on their videos now.
You could just rely on the microphones that come built into your camera, computer or phone, but you will find sound quality is so much better if you use a dedicated mic.  The Smartlav we mentioned is great, but if you want even better superior sound, here are a couple we have used:
Blue Yeti – plug into your computer and merge with your camera file during editing. (Hint: clap three times at the start of filming to make the merge easier – it can be edited out). If your ears pricked up at the word 'editing' and you worry about getting that done, it is not something you need to learn yourself. You can hire someone on a site such as Fiverr or Elance to take care of the edit for you.
Sennheiser wireless – these are slightly higher-end with the advantage that you can use them wirelessly. They come with receivers that you clip on your belt or hold in your hands and a mic you clip on your shirt like you see below.
Get a PDF Version of this Video Marketing Post
6. Lighting Kits
It is so easy to have great lightning on your face when you film.
Want to take your professional quality up a notch? Consider investing in a lighting kit to optimize your picture.
Diffusion paper is a tool you can use to soften the light (people often look better under softer lighting). Here is some info from Izzy Video on diffusion paper and how to soften your lighting.
Plus we used them behind our computers so when we do Google Hangouts, video calls and other things that involve using the webcam then you can have a professionally and evenly lit face reusing your lights in this way.
Lighting kits like this one can start as cheap as $100.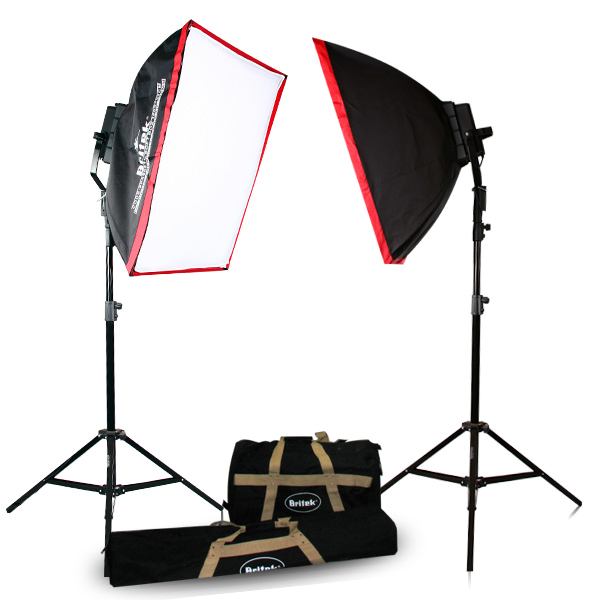 7. Backdrops
Having a good (or bad) background is the fastest way to seem unprofessional.
Whether you are shooting from home or an office control your space to keep minimal distractions in the background. Each item you choose should be carefully put there, like a photo of your family, a book you love or a burning candle.
If you are limited for a clean wall or space then a backdrop may be a good idea to give that clean appearance (or hide your dirty laundry!).  Room dividers are a great resource for this and can easily be found at your local furniture store or on eBay.
You can even use these behind your computer chair like the example below for those webcam videos you create.
Create Videos Faster and Easier
8. Hangouts
All you need is a good webcam, and a speedy internet connection and you can be streaming live videos using Youtube.
You can set up a hangout either through YouTube or your Google Plus account (we teach you how in Digital Traffic Institute).  One of the cool features of hangouts is that you can set them up either as public or private, to either make your video content open or hidden to the public.
Here is why you might want it private:
If you have a membership site where you coach people, you could set up a private hangout that only your members can see. Embed the hangout onto a page in your site and use with a tool like Chatroll, and you can have members ask questions as you go. Hangouts also automatically turn into a replay as soon as you are done so you don't have to change the video code on your webpage you are sending people to.
We have also seen private hangouts used for masterminds (where up to 9 people participate in the hangout) and one on one coaching.
Here is why you might want it public:
Public hangouts show up in your YouTube channel right away afterwards, adding to your content library, helping with your SEO, and establishing you as an authority in your niche. We use hangouts for interviewing guests on Make It Simple TV.
Plus it is a great tool to use "open office hours" online. Set up a page on your website, embed a hangout video and send people there each week and now you can take live Q&A from around the world with potential clients.
How you use a hangout is really limited by your imagination…live cooking lessons, personal training or yoga sessions, guitar lessons…
Here are some brands who've done it well:
Cadbury had members of it's Taster's Circle from Google Plus participate in a live "taste-off" – chocolate lovers unite! (We checked, sadly it looks like the Taster's Circle isn't currently open to join …)
Bakespace hosts 'Kitchen Parties' where different food-related topics are discussed and demonstrated. They often include well-known chefs as part of the mix (check out their last Kitchen Party on Wine and Chocolate pairings! Wait… there's a theme here…)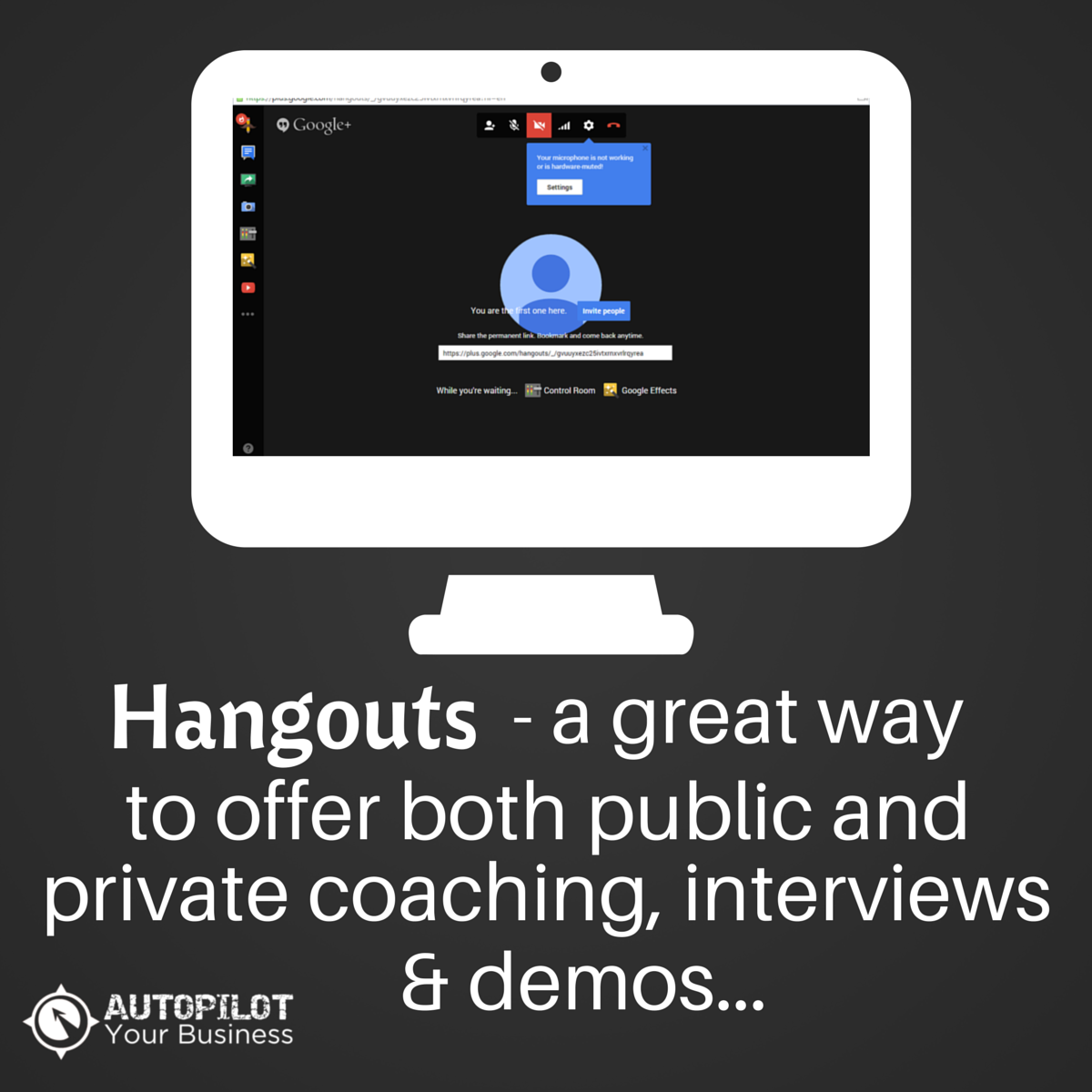 Get a PDF Version of this Video Marketing Post
9. Teleprompters
Not knowing what to say is no longer an excuse to not making videos.
Worried about forgetting what you need to say? Keep your head up and stay on task with a teleprompting tool. These can be free or low-cost and run from your iPad or laptop. Check out Teleprompter Pro for iPad or Cue Prompter for your laptop.  All you need to do is rig up your device to site just below the camera's lens so it looks like you are speaking to the camera and not reading.
Or if you want to go more pro, starting at $150 you can get a setup like the one below that has a beam splitter glass so you appear to be looking straight into the camera.
Create an Animation Video
Now, here is the section for any of you who just "can't" go on camera! There are some great animated video software tools available which make it easy to create a cool-looking video for your business. We've made some in 20 minutes or less…
Start for free and get guided through a simple process to create your own videos.
This is as easy as choosing from one of their templates, choosing music or a voiceover, and doing a 'drag and drop' of features such as text, images and effects for your video. The free version gives you a lot of options, but if you choose a paid subscription you get more templates and designs, plus you won't have their logo on your video.
Here is a sample of what a Powtoon video looks like…
Get a little more advanced and go a little more pro for a small fee.
This service also has many templates and features to choose from, but you pay a one-time fee for access. In return, you have no monthly subscription and you don't have any watermarking on your video like on other software tools.
Record Your Computer Screen
12. Screencast Software for Mac and PC Users
The perfect way to create tutorials, demos and training for your team and clients.
Screencasts, or video screen captures, are great for creating "how-to" videos that show what you are doing on your computer screen for tutorials you can load on Youtube or include as premium content to sell. You can also use these types of videos as training tools for team members and clients.
Here are some software tools we recommend for screencasts:
Camtasia
A great all-rounder for both Mac and PC users. You can download a free trial, but otherwise it will cost you a one-off fee of $299 as a PC user and $99 as a Mac user. It comes with free tech support.
Jing
We use this almost every day to communicate with our team and clients. Jing is available for PC and Mac, and it's free! You can take screenshots or create screencasts, but the catch is that you get a maximum of five minutes per video. On the bright side it makes you keep your message concise!
Camstudio
A great free tool for PC users. Camstudio is open-source software for screencasting. It's a free tool for PC users and seems to be well-supported with regular updates. One of the cool features is that you can include yourself on webcam in a 'picture on picture' screencast if you like.
Screenflow
A widely know version for Mac users. It costs $99 and is relatively intuitive to use and you get some great editing tools with it. We use this for our green screen edits.
Check out Co-Founder Andrew's demo of screencasting below…
Use Stock Images and Clips
13. Professional Video Clips and Images Resources
Stock video clips are great for breaking up monotony in a video or highlighting a point. For example you could have images float across the screen which relate to what you are talking about…
Video Blocks
Upgrade your creative projects with a subscription to access stock footage and motion backgrounds. A subscription to Video Blocks will give you unlimited downloads of royalty-free clips. You can even re-use a download as many times as you like once you have it. They have 3 different levels of subscription which offer different features, but their regular subscription will cost you $99 per year. Their free trial offers you up to 140 downloads too.
Shutterstock
Buy one-off images and video clips to use as you need them. If a subscription is not really your thing, Shutterstock will sell to you by the clip (with different prices for different levels of quality). You can also buy a pack which gives you a bulk discount for clips.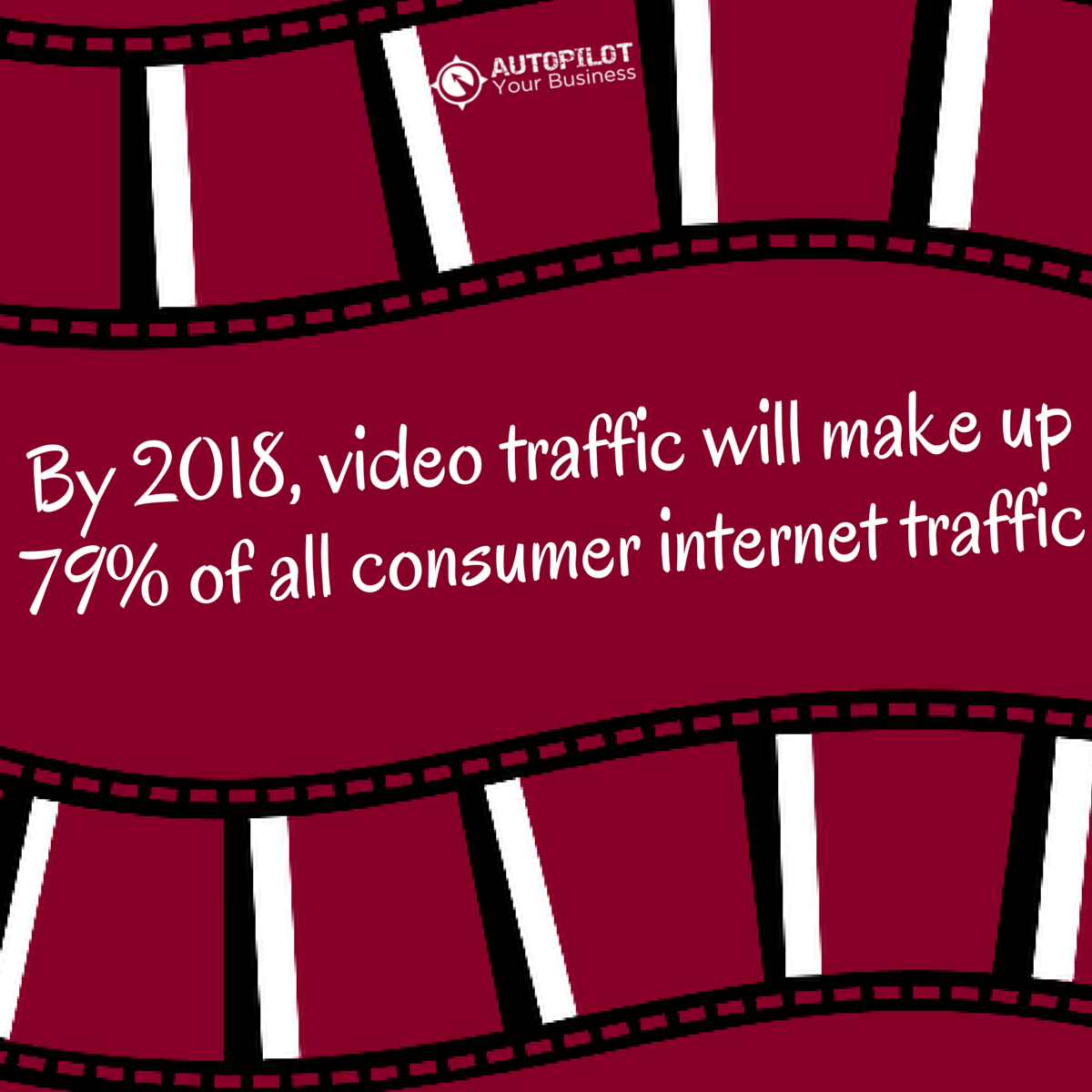 Easily Edit Your Videos
Perfect for PC users.
This is a subscription service which comes with a suite of video, audio and image editing software for PC users. AVS is great for editing to different formats and applying different effects to your video. Many features are relatively easy to use (or of course you can hire someone to do it!).
A great tool for all Mac users.
Apple users, this is for you. iMovie has an easy drag and drop interface where you can easily choose clips and add titles, effects or sounds. It will cost you all of $14.99 from the Mac Store in return for creating professional-looking edits. We love this one!
A free tool that comes with your YouTube account.
This is good for a few basic edits without the full features of a paid program. In YouTube you can edit or combine clips, add music and customize with special effects.
Distribute Your Video Online
Now that you know how to create professional videos, it's important that you get as many eyes on it as you can! How you distribute your video should be a key part of your content marketing plan. To ensure consistency, have your processes documented somewhere…
A tool for anyone who'd rather upload video once and distribute across many platforms…
You could choose to upload your video to different platforms yourself, or you could use a software program that will do the distribution for you. Oneload is a one-stop-shop for making sure your video gets to top video and social platforms. The free plan will see two videos per month distributed to 10 different platforms, whereas pro and enterprise plans get you across 300+ platforms. They also provide a great dashboard which allows you to monitor your analytics across all platforms.
iPhone app that will distribute across many video platforms…
This is an app for iPhone users which will distribute your video straight from your phone to many social and video platforms. You are also provided with detailed statistics and reports. This is also a plan-based software with higher levels getting you more distribution.
Video distribution on a budget…
For the budget-conscious, you can actually hire someone for five bucks to distribute your video across different platforms. We recommend going for someone who has high ratings and good reviews for doing this work previously. Search for "video distribution" to find a gig.
The best thing about these tools that we have shared is that they are all pretty easy to use. If technology or getting started is a block for you, start out with the easiest possible set-up (such as your iPhone with an added mic) and go from there. Don't let "camera issues" be a barrier to sharing cool video content!
So, should your business go on camera? Video is huge and only projected to grow in terms of online traffic. Any type of business can get on board this trend relatively cheaply and easily, but we recommend you use a combination of the tools outlined here so that you come across professionally on camera and enhance your brand. Do your homework and figure out what people want to watch – could you have the next YouTube hit?
Have you used video marketing in your business? What is your biggest tip you can share with others who are also thinking of using more video?