All successful business owners will tell you that to grow your business you need to develop systems to scale and at the same time put yourself out of a job (after all we did not start a business to just give ourselves another job, right?). One of the easiest and most fundamental ways of doing this is to automate your email marketing and followup.
There is a system we love for this called MailChimp…
SEE ALSO: How to Write Emails That Get Opened and Read
Why use MailChimp?
There are many options for email management programs out there so we know it can get a bit confusing! MailChimp is a program that we and many of our clients have used to help make running an online business easier.
We recommend it if you are just getting started or have a small budget.  Actually, we recommend that until you are truly monetising your website or business online that you stick with MailChimp. It allows you to have multiple email lists and segment the data you have, easily stick forms on your website to collect data and integrates with more things then we can count…
Imagine making a sale in Paypal and automatically adding people to a certain email list so you can follow up with them based on what they purchased.
Or imagine automatically adding anyone who signs up for your membership program into an email list so you can just send them special messages.
Or what about getting people to opt-in for something free you are offering on your website and then automatically start sending them automated follow up emails.
Yes, MailChimp can do all of that and more.
In this article we explore what it does, who it is for and how you can get your hands on it. We will share some of the tips we have learned along the way and we even made a tutorial video to show you inside an actual account so you can see what it can do.
Click to tweet >> Email users will increase to over 2.8 billion by 2018 (Radicati)
Who is MailChimp good for?
MailChimp is especially good for anyone who is starting out with their email marketing or anyone who has a relatively small list of contacts or subscribers.
We recommend it to our clients because of how simple it is to use, and the features available with it. We like that they provide a free option allowing you to test them out before you commit to a paid plan.
You can stay on the free plan as long as you send 12,000 or less emails per month (the total number across your subscribers), and for as long as you have fewer than 2,000 subscribers across all of your lists. If you want to unlock more features though (including automation), paid plans start at only $10 per month…pretty affordable right?
This means that MailChimp is a budget-friendly option for anyone in those critical early stages of business or still learning how to get their online presence generating an income. Plus it is easy to use, has a great tutorial library and knowledge base and even the copywriting on their site is great.  We love the "high five" hand that pops up each time you send out a broadcast email.
What can you do with MailChimp?
The short answer – a lot! So we thought we'd go through some steps that we would usually follow when setting up MailChimp with our clients…
1. Set up a MailChimp account
The obvious first step! Fortunately MailChimp makes it easy; you simply go to their website here, click on the big red "sign up free" button in the top right corner and follow the instructions.
As MailChimp is web-based, you won't need to download software to use it, but you do need to check that your computer settings are compatible with it. For example, you should have enabled cookies, pop-ups and JavaScript.
If you are new to Mailchimp, one of the great features you will find is all of the tutorials they have available to explain their systems as well as general email marketing advice. We recommend you check out their Getting Started section even before you sign up to get an idea of requirements and what it can do.
Click to tweet >> Email is almost 40 times better at acquiring new customers than Facebook and Twitter (McKinsey & Company)
2. Create a list in MailChimp
The next step is to create your first list where your email subscribers will be stored. You can set up as many different lists as you like and can import lists from a CSV file or have people added by subscribing using a sign-up form. If needed, you can also manually add subscribers.
A HUGE feature we love is that you don't need the people on your current list to opt-in again to start receiving emails from you if you are changing email platforms.  This means that you can export your current email list(s) into a spreadsheet and then upload them to MailChimp.  Sometimes you may be required to clean this list before you can start sending emails to it, but more on that later.
Here are a couple of pointers for MailChimp lists:
While you can have as many lists as you like, if you want to be able to target certain groups of people, it may be easier and more economical to manage that by splitting one list into segments rather than having multiple lists. MailChimp pricing is based on the number of people on your lists altogether, which means if you have duplicates on separate lists, they are counted in the total number.
Make sure you name your list with a title that you will remember down the track! This may sound a bit obvious, but we have experienced a number of times where people don't remember where their lists came from a few years on. This is important, particularly if you want to send out targeted emails to certain lists.
3. Set up a sign up form for your website
Of course if you want people to be opting in to your list, you will need to have a sign-up form on your website. Once you have created your list the sign-up form is the next thing we would look at. The "sign up forms" option is found in the editing menu for each individual list. Under "general forms" select "sign-up form" from the top left menu and use the drag and drop editor to create the form you would like. We show you how to do this in the video below.
We recommend creating a basic form requesting the bare minimum information that you need, as too many form fields can put off potential sign-ups. After you have finished with your form design, go to "embedded forms" to grab the code which is needed to put the form onto your website. We recommend you copy the "naked" form code to a text document, then send that to someone who can customise it for your website (you can paste it as is, but it's not the best looking form!). You can find people who will do this for you on sites such as Fiverr or Elance.
4. Customise your opt in confirmation & final welcome emails
These are also found in the forms section – you will need to use the drop-down to select them. It's always a good idea to customise not only the confirmation and final welcome emails, but the thank you pages that people are sent to when they sign up (create these on your website). You want your branding to be consistent and for people to land on pages that they would expect to see once they have signed up with you.
5. Set up autoresponder emails
If you are on a paid subscription, you have the "automation" option available to you down the left hand menu, where you can set up a series of autoresponder emails. We recommend doing this as it is a great way to build up a relationship and your credibility with your subscribers. MailChimp has recently upgraded this area so that you now create your autoresponder series in "workflows", meaning it is easier to find and edit individual emails as well as control the timing between them because each series you set up has its own workflow.
The purpose of your autoresponder series should be to help the customer get to know you, to give away free information or products and to slowly introduce them to a signature program or product of yours. We usually would create a series of 7-8 emails to go out over 14 days from when the customer initially signs up. (If you need help getting these written check out Digital Traffic Institute where you can download our proven email auto-responder script ready for you to copy and paste into MailChimp).
Your autoresponder series should help ensure that people who signed up with you are the right fit for your business, rather than simply seeking freebies. You want to build trust, show you are credible and likeable, and most importantly prequalify people through your autoresponder series so that they are enticed into purchasing from you because they know how what you offer will benefit them.
And yes, this means it is OK if people opt-out of your emails! If you do your job right in the content of your emails an unsubscribe means they are deciding that you are not a great fit for them. This removes potential issues of a mismatched relationship down the track and instead helps you build a great tribe of people who are buyers either now or potentially later.
Email set-up for your autoresponder series is really easy with MailChimp. Again, we show you how to do this in the video below. The trickiest part is writing of the autoresponders.

6. Newsletter set up in MailChimp
An important part of managing email marketing is to keep your list "warm". It will be of little use to you if you occasionally send out a promotional email because people will forget who you are and unsubscribe. You need to keep relationship-building beyond your autoresponder series, and this means regularly sending out something like a newsletter or notice of new content on your site.
A newsletter is one of the easiest ways to keep your list happy (as long as you offer great content…and if you want tips on how to do this you will love this podcast of ours "Content Marketing and Content Creation Ideas").
Break your email into short, actionable points (it doesn't need to be long-winded!), including content that is actually useful to your readers, and creating a design that is easy on the eyes.
Fortunately with MailChimp, there are a number of templates available for newsletters, or you can easily create your own. If you look under "Campaigns" this is where you would set it up and you can easily drag and drop the elements that you would like for your newsletter. We suggest getting a custom header designed which fits with your website and brand image, and ensuring that your newsletter goes out regularly (for example, if it's weekly, then stick to weekly!).
MailChimp has a simple interface you can play around with when creating your newsletter which is more good news for anyone on a budget! Many website owners are still paying big bucks to developers to create stylish newsletter templates for them – we suggest you check out what you can produce with MailChimp before handing over the cash!
While you can create and send newsletters using the free account, an option that is only available to paid accounts is the ability to preview what your email will look like for people on your list using different email clients. For example, MailChimp can identify the top 10 email clients of your list (Gmail, Hotmail, Yahoo etc), and allow you to see what your email will look like to them. Different email clients can mean that the email appears slightly different (for example, Gmail doesn't tend to automatically download images), so you may want to tweak your email.
 
How To Measure With MailChimp so you Know What Works…
Once you have started sending newsletters and autoresponders, it's important to monitor how well they're doing if you want to be able to improve. MailChimp provides reports and statistics for each so you can keep track. You will see open rates, click through rates and how many people have subscribed or unsubscribed.
A good result for your email campaigns can be benchmarked against common industry statistics which MailChimp provide in their resources. From there you can work on improving your statistics with a few tips:
Create good subject lines which tell people what is in your email. An overly creative line might sound cool to you, but it will usually put off subscribers who already have over-crowded inboxes.
Test your email formats. Does a certain format do better than another? You could try sending a different format of the same newsletter to different segments of your list, then seeing how they go for opens and clicks. We tested a more text heavy version against a graphic heavy version and got the same results which was a surprise (we thought text would work best)!  This is why it is so important to test.
Too many bounce-backs or reports of abuse can see your account suspended. Reports of abuse (or spam) are usually a sign that you have sent out emails so infrequently that your list has forgotten who you are. Another good reason to stay in touch regularly!
MailChimp will automatically "cleanse" your list of bounce-backs, but if you are importing an old list and are unsure of the validity of the email addresses, it may be an idea to run your list through a list cleanse program. These basically work by filtering out old, invalid email addresses and giving you a "cleaned" list of valid addresses at the end. Pricing is usually based on the size of the list – try programs such as Briteverify or Data Validation to clean your lists. Data Validation is great because it will clean your list from inside MailChimp and automatically sync up any changes for you.
MailChimp Integrations
This is a cool feature of MailChimp once you have a handle on the basic functions! It integrates with several programs which you may already be using in your business such as:
Facebook
Twitter
Google Analytics
SurveyMonkey
Paypal
… and many more
You can find "Integrations" under "Account" in your profile.
MailChimp Cons
We think MailChimp is a pretty good product overall, but here are some cons identified:
1. Prohibited industries – while this is understandable due to higher complaints from these industries, the list includes types such as affiliate marketers, work from home and multi-level marketers – common among online marketers!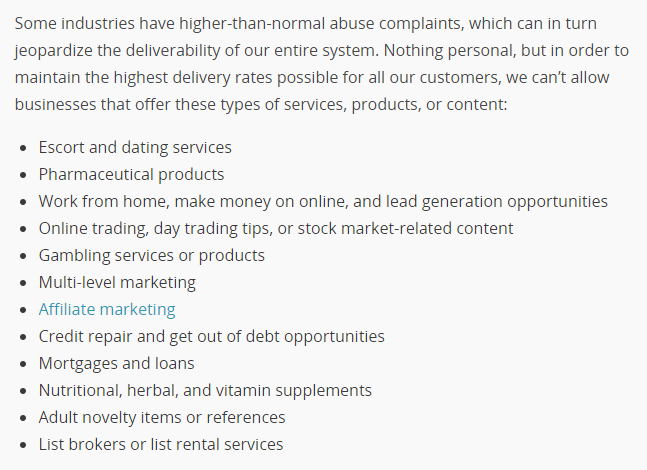 2. You need to get the paid account if you want to set up autoresponders (which you probably do!).
3. Some people have described it as a steep learning curve. We think it very much depends on what you're used to, but to counter that their Knowledge Base resources are very detailed. If you can't find what you need there you can also contact their support services.
Email marketing is still a very valid and growing part of any online business. This means that choosing the right system for your emails is important. You want to make sure that you are comfortable using it, that it delivers what you need, it produces good-looking emails and that the price is right.
Having experimented with various email programs out there, we feel that MailChimp answers those requirements for most small online businesses.
Check out this video to see some of the key features in action…
Have any questions or comments? Let us know below…