How many thank you pages do you see if you've spent some time signing up to lists or purchasing products online? A fair few, right? That makes thank you pages more than just a filler to say "thanks", they actually could be some of your most prime online real estate… With that being said, a HUGE number of websites are still getting it wrong when it comes to optimising their thank you pages…
Have you ever signed up to something online and been sent to a page like this?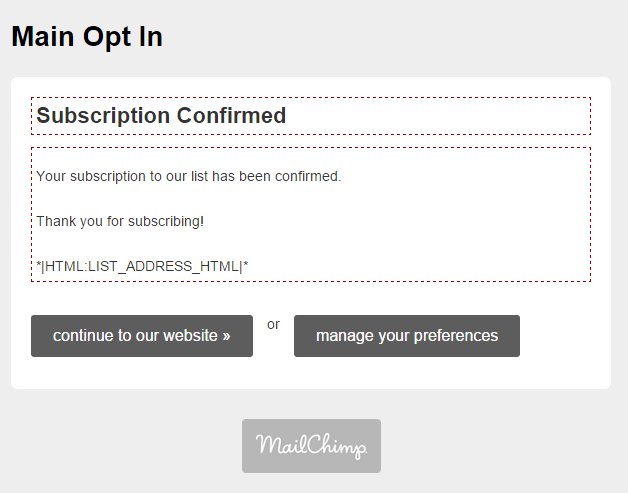 Or a page that simply says "processing your request" or "thanks – got it!", with no branding from the website you thought you just signed up with?
Does it leave you confused about what you've signed up for or wondering if you've gone to the right place?
Generic thank you pages really don't do anything for your business. In fact you could say they are just a wasted opportunity!
Get A PDF Version Of This Post – CLICK HERE
Even thank you pages that are nicely worded and customised for the business can get it wrong – here's an old one of ours…
Sure, you know who you just signed up with and it looks pretty, but we're still missing an opportunity! Why? There is a lot more your business can do with a thank you page apart from saying "thank you".
Here we're going to look at how you can turn your thank you page into an upsell page and potentially generate more for your business…
What is a thank you page?
This is the page a lead lands on after they have opted in at your website. By this point they are basically saying that they trust you that little bit more because they gave you their email address, and it is a good idea for you to acknowledge that with a thank you. People do expect to see this so that they know they have successfully opted in or bought something from you.
How to make your thank you page an upsell page…
Here's the thing, getting eyeballs onto your offers, products or opt-ins online is hard! People are bombarded with information and have become jaded when it comes to giving up their email address or checking out a promotion. This means you need to be making the most of it when you already have a captive audience.
The leads who sign up with you are already qualified – you know they're interested in you already! This is where the thank you page becomes an important vehicle for getting new leads to take the next step with you… to take them to more content, to get them to leave a review, to get them to engage with you on social media or even to get them to buy something!
Did you know that generally, for every 10 people who sign up with you, 2 will want something more from you? This is YOUR chance to catch someone on their way out of your site. This is one of the most captivated audiences you will have.
Check out Andrew's video on how you can make the most of your thank you pages to generate upsells…
4 tips for your thank you page:
1. Let them know that they are in the right place.
2. Tell them what to do next.
3. Have a Call to Action above the fold – this means that they don't have to scroll down to see it.
4. Tell them more about you.
What can you upsell on your thank you page?
You can upsell almost anything on your thank you page so we've dug around for a few examples to show you.  We suggest that you keep a couple of points in mind:
1. Have a specific goal for the thank you page, for example "after they (take the action that got them to the thank you page), I want them to …" If you have too much going on people will become confused and probably click away.
2. Make it a logical next step – for example, if someone has just signed up for your free white paper, how likely are they to then purchase your most premium product offering of a $5000 mastermind right off the thank you page? Kind of unlikely, right? However they may be interested in your book for $9.99 or even just following you on social media.
Here are a few upsell examples:
Your membership site or program – this is especially good if it is directly related to the free item your lead just opted in for. Here is an example of one of ours: the opt-in is about tripling website traffic using blog posts you already have, while the upsell, Digital Traffic Institute is our membership site for people who want to stay on top of the latest online marketing advice. Logical, right?
Ask them to share on social media – here's one we created for people who signed up to an e-course we ran recently:
Sign up for extra content – why not include another opt-in? This is a great way to help segment your list and understand the interests of people who sign up with you. Here's an example from Copyhackers…
Set a reminder – this is not an upsell but it is a great technique to try and ensure that people turn up for your events that they've signed up to! Here is an example from Digital Marketer – leads who signed up for a webinar can add it to their calendar of choice with one click…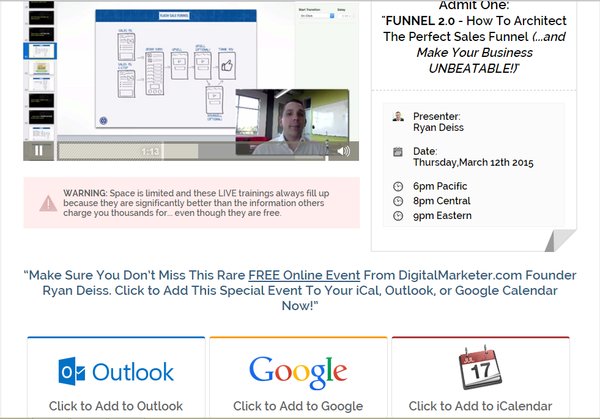 Ask for a review – our thank you page for people who sign up to our podcast automatically plays a video which asks them to leave a review for us on iTunes. (We also ask them to sign up for additional content and like us on Facebook on this one).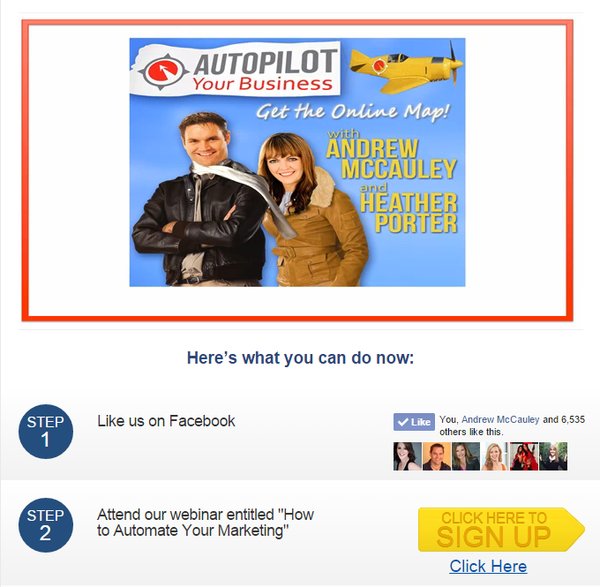 For ecommerce sites – try offering a discount code, "people who bought this also bought…" (think like Amazon), the opportunity to create an account, ask them to share their purchase on social media,  or offer an upsell or sidesell deal on the product purchased.
Break down the double opt-in barrier – Here is a different idea: Ben Settle uses his thank you page to specifically direct people via a video message how to confirm their subscription with him. There are some great reasons to be using a double opt-in system (as pointed out here by Yaro Starak), however the risk is that 20% – 40% of sign-ups won't complete the second step. Ben's thank you page clearly explains and shows on the video how people can confirm their subscription.
Get A PDF Version Of This Post – CLICK HERE
Whatever you choose to do with your thank you page, just make sure it accomplishes something else apart from saying 'thank you'! Statistics compiled by various online marketers show that around 20% of people will be ready to take another step with you if they've just purchased or just signed up – seize that opportunity and give them what they want! Come up with a goal action that is a logical next-step and don't let your thank you pages leave money on the table…
We'd love to hear your thoughts! Do you have any good examples of thank you page upsells to share?