Are you the owner of a local business in your town?
How are you doing with attracting business online?
While you are probably very busy maintaining your physical store-front, it is also now more important than ever to maintain your online store-front and get your business recognised in local business search results. Unfortunately, many local business owners are lagging behind online, to the point where their websites have disappeared into the vast internet wasteland.
Yes, we know that time and budget constraints can play a big factor, but what if getting it right online can not only bring booming business, but turn around the employment prospects in your small town, like the online marketing strategies of Missouri Star Quilt Co.?
Or what if your small local business can develop a large world-wide clientele, like these Australian businesses?
Even if you are on Main Street with prominent signage and good foot traffic, the chances are that getting it right online will grow your business a whole lot more than the guy out front with the sandwich board…
The fact that even local businesses need to be online now to get ahead is old news, but now that a large chunk of businesses have got websites in place, your strategy to capture a share of local search traffic, or even wider web traffic could make or break your business.
Want some ways to help your business get on the winning side of local search traffic? We've got 7 strategies to help get you found online…
Get A PDF Version Of This Post – CLICK HERE
1. Get good backlinks
What is a backlink? 
You may ask… Simply put, it is an incoming link to your website from someone else's website.
Why do I need backlinks?  Backlinks are one indicator that search engines use to assess the relevance of your site to a keyword. Google considers your site more relevant if you have a larger number of quality backlinks, and will use this determination in where you rank for keywords. In fact, according to Hubspot, backlinks are the fourth-greatest ranking factor…
What is a 'quality' backlink? 
As many website owners will know, Google's Panda and Penguin algorithm updates meant that websites which had "poor quality" backlinks were hit with the infamous "Google slap". Since then many have been afraid to do much in the space of gaining backlinks. However, as Mark and Eric from Stonetemple explain, backlinks will serve you well if they meet the following criteria:
They will naturally drive traffic to your website.
They are relevant to your website (so for example, if you sell cat toys, a link from a car parts website will not be seen as relevant).
They build brand visibility and reputation with your target audience.
So backlinks are important, you just have to be careful about where you are getting them from.
On the flipside, Social Media Today gives us three types of links to avoid:
Reciprocal link schemes – these were common a few years ago and generally involved poor-quality, irrelevant links that would not be helpful to your target audience.
Purchased links – you'll still see some ads around claiming to provide a certain number of backlinks for a price. DON'T GO THERE! These are generally low-quality links that will end up getting your site penalised by Google.
Low-quality directories – Directories should be part of your link strategy, but there are still many that fall into the "low-quality", "just-slap-me-Google" category. A rule of thumb is if it's not where your target audience would naturally go to find you, then it's not a place you want to be.
There is no easy route to "good backlinks", in fact it will usually take a fair bit of leg work on your part to get them. Brian Dean of Backlinko (who just may be the King of Backlinks!), gives many ideas for backlinks on his website, including these 17 sources of untapped backlinks. One of the notable things about each possible source is that you will have to do something, ask someone or generally do some work to get it. As a local business, you should also be looking for local links – here are a few ideas that could help with your visibility:
Local awards and contests – most areas will have their own version of "Best of" or other business awards. Find out what is on offer in your area and get nominated! Winning businesses (and sometimes even all nominees), tend to get links to their business displayed on sites such as the local Chamber of Commerce or local news websites.Casey Meraz for Moz suggests the following search ideas to help you find local business awards… Sponsorships – many local events or awards are in need of sponsorship from businesses. If your business can swing the sponsorship, you get the bonus of increasing your exposure locally and (usually) a backlink on the event website.
Offer discounts – particularly to interest groups such as students, teachers, military personnel or seniors. These groups will usually promote discounts on their own websites, gaining you a link. BONUS: .edu websites tend to have higher domain authority – this means that they fall under that "quality link" criteria you are looking for.
Product manufacturer's websites – do you own a store which stocks products from an external manufacturer? Get listed on their websites as a stockist in your area…
Create your own  local guide – (but make it relevant to your business!). For example, if you own a pet store perhaps you could create a guide to the best local areas to walk the dog, or the best animal activities in town. This is about creating good content that people will want to link to so spend some time getting it right!
Local business directories – look for directories run by a reputable organisation such as your local Chamber of Commerce or any trade organisations you belong to (refer back to the above section about avoiding dodgy, low-quality directories!)
2. Assess your website
Has your website been reviewed through the eyes of a customer? Don't be one of the many websites out there which are virtually incomprehensible to the average visitor! When someone comes to your website they should be able to understand very quickly;
What you offer.
Who can benefit from your offer.
How they can get their hands on it.
This means you need to assume that the average visitor doesn't understand your industry jargon and that descriptions need to be comprehensive rather than vague. You need to ensure that all of the information is there that your target audience may require. Here are some advantages to assessing your website for these criteria:
Visitors are less likely to leave right away if they understand clearly what you're about.
Google likes websites where people spend more time.
Your content is more likely to match what people actually search for.
Your website link is more likely to be shared if people understand it.
You remove confusion and encourage people to do business with you!
It can be difficult as a business owner to take an arms-length look at your own website, so it may be a good idea to ask a friend, relative or (even better) customer to give you some honest feedback.
3. Optimise for search engines
There is no silver bullet for Search Engine Optimisation (SEO). For the majority of websites it will take persistent effort over time to reap the fruits of SEO in terms of driving more search traffic. (So don't buy it if you come across someone who promises a quick fix!).
SEO encompasses a wide range of criteria which do (or are speculated to) have an impact on how your website does in search rankings. Google keeps their weighting of different elements pretty close to their chests but there are various SEO experts out there who have been testing and reporting on what they find to work.
Brian Dean recently published a list of 200 Google ranking factors, a number which will be quite overwhelming if you are the average small local business. Of course you can pay an SEO expert to help you out, but here are a few basics to keep in mind:
Keywords
Use of keywords provide an indicator to Google of what your website is about. You should ensure that you have conducted keyword research to figure out what the best combination of words are for you to use. (Check out our keyword research article here for ideas).
Bear in mind that you should aim to naturally use phrases that people are actually looking for and that over-use or "keyword stuffing" can get you penalised.
You should also look to use "Latent Semantic Indexing" (LSI) keywords in your content. What this means is additional words that give meaning to your keywords, such as synonyms. (Think about 'football' as an example – the word has different meanings depending on which country is using it. Using other descriptive words such as 'soccer', 'Aussie rules' or 'NFL' help to distinguish what you're talking about).
Website Design
"A site that's difficult to use or to navigate can hurt ranking by reducing time on site, pages viewed and bounce rate." – Brian Dean, Backlinko
The "Google Quality Guide" also makes a case for user-friendly layout stating: "The page layout on highest quality pages makes the Main Content immediately visible". 
Your website design plays an important role in SEO for your site. Not only should it be easy to navigate and to understand what it's about, but design elements also play a part in how well visitors trust your site. Of course trust will impact how much traffic you get – if you come across as untrustworthy, people won't visit your website and you will be ranked further down in search for reasons such as high bounce rate and low time on site.
In a post for Crazy Egg, Joseph Putnam cites a study in which website visitors indicated the following factors lead to mistrust:
Inappropriate name for the website
Complex, busy layout
Lack of navigation aids
Boring web design, especially use of color
Pop up advertisements
Slow introductions to a site (splash pages, slow-loading flash introductions, etc)
Small print
Too much text
Corporate look and feel
Poor search facilities/indexes
Further, these kinds of design elements accounted for 94% of the reasons given for mistrusting a website. As a local business you may not have a large budget for your website, but it is definitely advisable that you get help from a professional designer when it comes to creating your site. If you've had your current website for a while, the chances are that elements of it may be dated, so it could be an idea for you to get it reviewed and ensure your design is 'liked' by Google!
Content Marketing …
but I'm a local business, I don't need content, do I?
Well, if you want to improve the ranking signals you send to Google, yes you do, BUT there are a few caveats that go along with this…
Content must be fresh, unique and relevant. Any duplicate content can get you penalised by Google.
Along with the above, content must be of good quality. Google is about better serving their customer, the user of the search engine, so they want to deliver information that is good. Average, 'filler' content can get you penalised.
Update content regularly – this is a ranking factor that we know Google does use as it indicates a website is active.
If you can't meet the above criteria, don't just produce content for the sake of content. Make sure you have put in place other SEO methods for your site (such as listings in Google My Business and directories, which we'll get into shortly) and use other methods of marketing, such as through social media.
Of course what we have just talked about above is "content marketing" with regard to your website (such as by producing a blog), in order to help with SEO. As Mike Ramsey points out in a piece for Moz on local content strategy, content is much more than just the written word, in fact "content" can be everything around you that communicates the story and brand of your business.
There are other ways to make content marketing work for you if having a regular stream of new website content is simply not doable, which we will get into in the next section.
4. Choose your online marketing strategy
You're a busy, local business, not a large multi-national with a well-resourced marketing department, which means you probably simply don't have the time to run with every online marketing strategy yourself (unless you can pay someone else to do it). That's why for most local businesses it will work out better if you choose the one or two things that should get you the best bang for your buck and focus on doing them well.
To help you decide what those things may be, you could start by identifying and understanding your local audience. If you know who they are, what they are into and where they hang out, it will help you to build a strategy to appeal to them.
Here are a couple of tools you could use to help:
Neilson Prism – (for U.S. towns/cities). This tools allows you to input the zip code of your area and browse through the "hometown personas" they have determined for your town.
Facebook Insights – This is great for creating a custom audience based on a few things that you already know. You can find out what their "likes" are and other demographic data. In this example below, I am pretending that I sell women's outdoor clothing in South Lake Tahoe…
Content Strategy
As we mentioned above, content marketing can be a great booster for your website SEO, but if you're not able to meet the criteria that will set your content apart and make it "quality", then don't waste your time with creating content just for content's sake on your website.
Great content can provide you with several advantages, including building a community, establishing your authority and delivering value for your target audience. Content could include properties on your website or elsewhere, so here are a couple of examples of businesses, one who doesn't use website content and one who does…
Purespa – This full-service salon and spa in California does not use blog content at all in marketing themselves. Instead, they use Facebook and a regular newsletter to share beauty tips, discounts and even local events. They produce content that their target audience is looking for, which drives business even without putting up website content.
  Voodoo Doughnut – This Portland doughnut business uses video and blog content to discuss local happenings, give insights into their business and generally share their own brand of quirky humour. Their website is truly something to behold (just check out the merchandise section!), and they have done a great job of crafting a unique brand.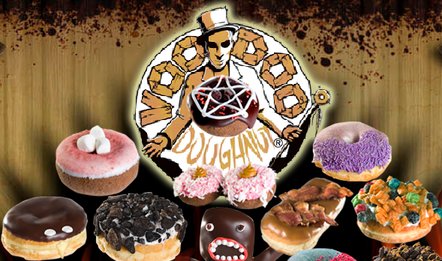 NOTE: It was actually not easy to find examples of local businesses who are doing website content well! That means if you can do a good job of it, there is a high chance that you can draw more traffic than competitors who are not…
This strategy is for you if: 
You are able to keep up a consistent schedule of relevant updates and have the time to engage with your online audience.
You are able to distinguish yourself and present a unique brand image.
This strategy is not for you if: 
You are inconsistent, you don't have time, you can't distinguish yourself from larger competitors, you have no ideas or you can't pay anyone to do it for you.
Email Strategy
Being able to build and maintain an email list which you regularly communicate with is a great way to keep people interested if you do it well. Neil Patel cites email as his most consistent form of blog traffic.
This strategy is for you if: 
You can send out emails on a consistent schedule, such as once per week.
You have interesting content that offers value to put in your emails (discounts, local events, tips, other content that appeals to your target audience…)
This strategy is not for you if:
You are inconsistent – if you only email once in a while, people will likely forget who you are and your emails are less likely to be opened.
You only want to use email for "sales" – people are always being sold to and tend to be wary of being pitched all the time. (Caveat: If the promise at the time of sign-up to your list is for "updates on products and discounts" or something similar, then they are expecting exactly that anyway…)
Social Media Strategy
Now this one can lead to an endless rabbit-hole – there are new social platforms appearing all the time and it can be difficult to know where to concentrate your efforts! It comes back to knowing your target audience and the kind of places they hang out.
When it comes to strategising for your social media, engagement and building brand loyalty should be key goals. You can do this by providing the type of content your audience likes, responding to any comments and starting or participating in group conversations.
Some small local businesses are even using social media as their main form of online marketing, such as Fox and Fawn on Instagram, or Epic Tahoe Adventures who provide engaging short running-tip videos on Facebook. https://instagram.com/p/13ghKioXnj
This strategy is for you if:
You have the time (and content) to be consistent.
You have done your research and know where your target audience is.
This strategy is not for you if:
You can't do it consistently.
You don't want to engage/reply to messages and comments.
The only posts you make are sales pitches – the occasional product/service post is ok, but only maybe one in every ten posts!
Your audience simply isn't on social media.
Paid online marketing strategies
Paid strategies include search (Google Adwords, Bing Ads), social (Facebook, Twitter, LinkedIn), display (banner ads) and other forms of paid native advertising such as Outbrain for putting your content on related websites.
Note that display ads such as banners tend to not be as effective anymore due to "banner blindness". Hubspot released this post which stated that you are "more likely to complete Navy Seal training than click on a banner ad" (!!!)
This strategy is for you if:
You have time to be constantly monitoring your campaigns – to be cost-effective you need to be monitoring to quickly understand what's working and what's not.
You have some dollars to spend on advertising – some CPC (cost per click) terms or CPA (cost per action) rates are very expensive, especially if a search term is competitive.
You would like to see potentially faster results than unpaid options.
This strategy is not for you if:
You don't have time or want to "set and forget".
You don't have any advertising budget.
5. Local search tools
Local business listing sites are a great tool to help get you found in local searches. In general, you will need to be able to meet the following criteria in order to "claim" your listing:
You must have a business name.
You must have a local business phone number – not a shared or toll-free number.
You must have a physical address at which you do business – no P.O. Boxes
You must physically meet with customers rather than do business solely online.
Here are some business listing sites that every local business should claim:
Other tools and tips
Yoast Local Plugin – this plugin for WordPress helps to optimise your website for local search by improving the usability of your contact page. It allows you to add an address map via Google maps, include opening hours and insert a store locator (useful if you have more than one location!).
Include your town on your social media bios – social media sites tend to rank high in searches so including your town and business/occupation could help you to show up.
Other directory listings – these could be free or paid and may be particular to your country. Here are some lists of local business directories for the US , local directories for Australia  and business directories for the United Kingdom.
BrightLocal – offers packages with a range of tools to help you audit, track and grow your local search presence.
6. Go mobile-friendly
We recently wrote an article "Why you MUST have a mobile-friendly website" which outlines all of the reasons why all websites (including local businesses) should be optimised for mobile.
The bottom line for local businesses is that not only will it help you get found from an SEO perspective, but being mobile-friendly makes your website more accessible and user-friendly for local searchers, many of whom will be using a mobile device…
  If you look at the types of information being searched for in the graphic above, it is clear that you should have your store address, contact details and hours displayed prominently. If you choose to have a mobile-only version of your website created, it would be a good idea to have these details at the top, like the image below from the Collective.
7. Get good online reviews
Ok you might be thinking; "why do I even want online reviews? What if I get a bad one?"
… Here's why you want good online reviews: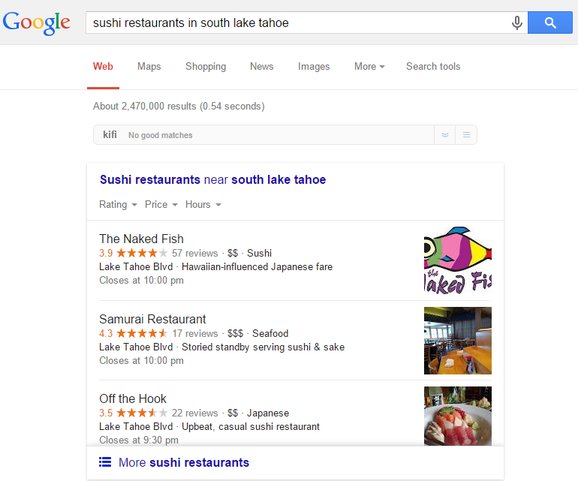 … reviews tend to be near or at the top of searches for local businesses. In fact in this particular search, Yelp made up the next three search results.
See how well those star ratings stand out? They also provide a good visual comparison in terms of price range vs star rating so searchers can easily see what might be the best offering. The other thing to consider here is the number of reviews – I would look at something like this result and feel pretty comfortable going to Naked Fish because they have a larger number of reviews but still hover around the 4 star mark.
According to this survey from Marketing Land, 90% of customers say buying decisions are influenced by online reviews – so worth having your business included?
If that doesn't quite do it for you, anecdotal evidence suggests that review numbers and ratings may influence SEO. Moz conducted a survey of local search ranking factors in 2014 where most industry respondents believed this to be the case. (Note: Google and Bing have never actually confirmed this, but then, they don't make a practice of confirming everything that can impact SEO).
Just keep your customers happy…
Not a difficult concept but not always easy in practice! Keep a good weather-eye on how your business is doing by being aware of both happy and unhappy customers, and even periodically conducting a survey with customers of their experience.
You may or may not be allowed to solicit reviews depending upon the review site (for example, Google encourages that you ask for reviews, while Yelp believes that asking impacts the integrity of the site). But you could provide links from your website to review sites that your business is on, include review site signage in your front window (Yelp is one that has them) or include on business cards.
It's all in how you respond to a review…
Unfortunately, there can be a tendency for the most unhappy customers to give a review well before the delighted ones do. It's not the end of the world if you do get a bad review, just make sure you respond in an appropriate manner, such as by offering to rectify the situation. People will look to see how well you respond and often use that to make an overall judgement.
It's usually not a good idea to respond defensively – Amy's Baking Company in Scottsdale, Arizona, infamously posted scathing comments in response to poor reviews on Facebook. At this time they are still rated with just one star on Urbanspoon…
Alternatively, taking a more creative approach just may win you more fans! In a recent case, a restaurant in Auckland, New Zealand was given a poor review by a couple of diners, this after they had been asked, and stated that everything was fine with their meals. The couple cleaned their plates then proceeded to complain about the meals, so were offered free dessert. They even complained about that in their review!
The restaurant took the approach of writing a review of the diners in return, which has actually resulted not only in it going viral online, but an outpouring of support from the public who disagreed with the diners (who finishes an entire meal and then complains about it?).
This type of approach works in this situation, because anyone who was there could verify that the restaurant did try to rectify the situation at the time and it seems more like the diners just wanted to vent. This will not work if you are using it to get defensive about a genuine complaint…
Get A PDF Version Of This Post – CLICK HERE
If you are a local business, it is now more important than ever that you look after your online presence and take action to get found. An overall observation is that a lot of local businesses are lagging far behind in many areas of online marketing, whether due to time, money or lack of expertise. If you can take action, even just tackling a couple of these areas at a time, you have a good chance of getting found before your competition…