Podcast: Play in new window | Download (Duration: 27:08 — 24.8MB) | Embed
Subscribe: Apple Podcasts | RSS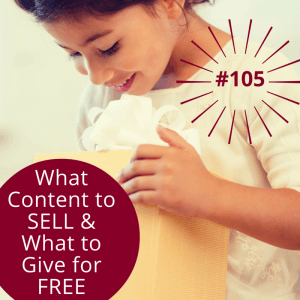 It's the age old question… You know you need to share content online to build your brand, but how much should you be sharing for free and when should you start charging? We will help you work out if it possible to give away too much for free, what the key differences are between both types and how to use "call to action" next steps in your free content to position your products.
TRANSCRIPTION
Andrew: In today's we're talking about paid versus free. When to sell your content. We're gonna be discussing why you give away and sell content; where and when to use call to actions; what you should offer as free content and what you should offer as paid content. Hi everybody. This is Andrew McCauley. Welcome to Podcast #105.
Today we're going to be digging into that age-old question — Should I give away my stuff or should I charge for it. When should I do that and all the good things that go around it?
Heather Porter, you are on the call. Hello!
Heather: Yes. I'm here. Hello. Hey guys, how's it going?
Andrew: They are all yelling out, "It's awesome! Heather, it's awesome."
Heather: Yeah, I can tell. I can hear it coming from wherever you are.
Andrew: I love it when you ask that question. You can't hear any response; you just say how's it going. Anyway, I just thought I'd bring that up.
Hey, what's going on? What have you been doing? What have you learned? Have you learned anything special over the last week or so?
Heather: Yeah. Common theme of Alliance Partners keeps coming up no matter where I look. The people that I'm noticing who are building their businesses faster and better are really looking at the importance of building partnerships. There's a woman right now that I know, she's watching a membership site and she did it very strategically where she's gotten on big corporate partners to actually sell her first round of intakes. So she's not even going to the market and she already has 60 members upon launch from big massive corporates. From there — she's just on fire — she's gone out to the Property Council of Australia and she's getting them to promote it. Really smart.
I know with Digital Traffic Institute as well, we're looking for the right fit for other businesses as well that think what we have to offer is valuable. It's a theme that I keep seeing and it's the people that are most successful in their businesses are really looking at their partnerships.
Andrew: We've just written an article on that, actually, about memberships and memberships that grow and that sort of stuff and it's all about joint ventures. It's all about — How do you get the right people to help you get where you're going and helping them along the way. Very, very cool.
Heather: So let's start at the top. Why should you give away content in the first place?
Andrew: Well let me ask you a step before that. What sort of content do you give away? Because a lot of people say, "I don't want to; I just want to give away something — I wont dip my toe in the water." It would be like a swimming race where they dip their toe in the water but they're not going to win the swimming race because they're never jumping off the blocks. I think that the thing is that people are scared to give away good stuff because they think — Well if I give away all my best, what are they gonna pay for?
Heather: I've heard that as well, and making the assumption that if you write ten amazing blog posts or of your best content, like you're saying, that people are actually going to consume all of it and that's not the case.
Andrew: No. The same comes back when you do videos and like — Well, why would I put them all on YouTube because then everyone can see them? Why would I? I wouldn't be able to make my memberships that way. The truth is if you want a book or some information you can go to the library and get whatever you want for free. But the fact is that people don't. People don't go to the library. Library's an old-school thing and even back when it was busy, not everyone went.
I think the important thing about when you're selling some stuff is that you're giving them the ease-ability, if you like — if that's a word — to access that content all in one spot knowing where it all is. Otherwise, like a library you've got to go looking through racks and racks of books or in YouTube's case thousands and thousands of videos to find all the bits you want together. No one's got time to do that. So I  think that question about — Should I put my best content out there? Yes, put it out there, but what you do when you sell it is you're giving them one spot to conjugate and find all the information nice and easily.
Heather: Well said. Strategically, the best places to put your content — the types of content you'd be looking at — is go to the market places that have the biggest following. So for example, YouTube, like you suggested. That's videos, right?
Andrew: Mm-hmm.
Heather: Social media — that's where you put content. LinkedIn publishing; Facebook posts. You should be going to look at perhaps Amazon with Kindle books; iTunes for podcasts. So you want to look at in your business what makes the most sense for you to produce and is not going to hold you back and make you run around going, "Oh, I'm scared I can't do podcasts" for example. But you look at what you're good at and then you look at the marketplaces to put it on and then that's where you go outwards. Then of course, inwards would be your blogs. For your email lists you're promoting ongoing content to your blogs. If you're selling everything you have nothing to talk about.
Andrew: It's perfect. Exactly right. That's great if you've got people to look at what you're doing. This sort of thing — and I'm going to circle right back to what you learned this week — and that's where people are concentrating — Well, I worked on my website; it's on my social platforms; it's on YouTube. But you're outward bound, basically, you are getting stuff out that's only connected to people who know you. OK, you might pay for some ads and that sort of stuff. But if you do some joint ventures, like you were saying, go and find out who else could you give your content to so they can distribute as well.
So this way you come along and say, well — we're talking about guest posts and that sort of stuff and there's a lot of gray area about it. "Oh, should we do guest posts or not." — but realistically, if you can find somebody who has your target market already in the palm of their hands and you put your content on their blog — I'm not saying this is easy to do, by the way — but if you can do that then you're going to find a whole new audience coming to you and finding out more about you because you've given your best content to somebody else for them to distribute.
It's a win-win — It's a three-way win. You get your name out in front of people; that person you're doing joint venture with gets the ability to put content out for their site, because they want to be creating content; and the people who are reading it get to see new content from a different perspective, which is you because they haven't read your stuff before, because they're probably used to reading the other person's stuff.
Heather: Yes. Really good point. OK, so I have a question for you. What would you spend money on? Because I know you and I both have invested our dollar on other people's content, right? What's the difference in your mind? What ware you willing to pay for?
Andrew: In terms of what sort of content?
Heather: Yes. Let's talk paid versus free. All the stuff is free that we're talking about so what would make you want to pay for content?
Andrew: I'm not sure if I'm going to answer this correctly.
Heather: Just you, personally.
Andrew: I'm not sure if this is the right answer but — I look for stuff that can get me further than where I am right now. So if it's a how-to-do-something-specific that I don't know how to do — so if it's an education piece — I will definitely go and pay for that.
Yes, I could probably go and look at it; I could probably go and try and figure it out by myself, but you and I know that when we both started we did a lot of that. We still do a lot of that today but we did a lot of that and it's a long process. By the time you've got it figured, it's' changed and it doesn't work anyway.
So I'll pay for someone who I already know has done it and got the results and go and find out what I need to find out. So I'll pay for that sort of content because the last thing I want to be doing is trying to figure that out again.
Heather: I love that you said that and for me, similar sort of thing. I first of all look for a teacher that I respect and I find that teacher by engaging with their free content. Then 2 — I'm willing to pay for it if it's a step-by-step process. So it's not a free "how do you hook up social share buttons" on your blog, which you could go to YouTube to find; it's actually more of a skill. So for quick results like that, if it's a three minute lesson, I might not necessarily want to buy it. But if it's a skill where there's downloads and step-by-steps and more hand holding especially if I have access to their team or the person to ask for help, that's when I'm happily able to pay. I think, as well if we're thinking about when do you charge for your content, what would you say? When should somebody charge? What's the difference between the two?
Andrew: I think once you've established yourself as an expert and you can show them that you've got some valuable information to share then that's the time to ask for some money. Even if it's a small amount — five, ten bucks — just the simple act of somebody buying something, putting their hand in their pocket and buying, their mindset changes; the whole psychology changes and they become now a customer rather than a lead or a prospect.
When they've done that it means that they feel comfortable if you can deliver on the value they've just paid you — so five or ten dollars, even — if you can deliver on that they're going to say, "Hey, I just got for five bucks something amazing; I want to pay 47; I'll pay 97." You and I got people that we'll happily pay $1000 for to go and get more information because we know every time they deliver some really, really top-class stuff.
Heather: Yeah, exactly. Just talking this through makes me think of John Lee Dumas from — did I pronounce the name right? I hope I did — from Entrepreneur on Fire.
Andrew: Yes.
Heather: — which is an amazing podcast where he interviews entrepreneurs every day, if I'm not mistaken. You were on his show. Basically, what I like about that is he was doing that for — correct me if I'm wrong — but about a year he was doing this all free content. Then from there he started to look at his own info product where he taught people how to do podcasting and then also sponsorships. So he started free to get his name out there and the brand and get a following and then he went into the charge from there.
Andrew: Absolutely. Now he's making a lot of money every day, every week from that. He had the "freemium" model, you know, this is what I'm doing; this is what I'm offering. People got to know who he was; he was consistent. He got some really big interview guests and then it was almost like a joint venture. "Hey, you're on my show, would you like to share the fact that you're on my show with your people." "Of course, yeah, we'll do that; no problem." And they brought new people to his podcast and it just grew from there.
Heather: Great. Great model. I wanna talk about membership sites because I've seen so many people develop a membership site or an info product and then they go to try and sell it and then it flops. What are your theories around why that's happening to people?
Andrew: Um, crap product.
Andrew: — quite possibly. Realistically, I think there's two. Firstly, it's a product that the person wanted, not the actual customers.
Heather: Yes.
Andrew: They never did their market research. They thought it was a good product but they never went out to see if the market actually want that.
Funny, here's a side story. My little son who's five — he ran out the front door this morning and ran down the street. I'm like, "What are you doing. Come back here." He's like, "I'm going to make some money." What are you doing? "I'm going to sell some lemons." We live on a court, OK, so there's no traffic. I'm like, "Come here. We need to talk about this."
We were taking him to school so we jumped in the car to school and said, "Listen. Here's the first thing you ought to know. Before you go and stand out the front…" — Because he said, "Oh there's a person. Let's go and run over to him and see if he wants my lemons." — I said, "Look, you've gotta understand there's reasons for business and we spoke about problems and solutions." A supermarket is in business because they offer a solution; the solution is people are hungry; they have food to sell; they are offering the solution for people to be hungry.
As we're driving, every time we went past a car or a worker's van or a shop, I'd say, "Hey, there's a dental group. What do you think their problem is? What solution are they offering?" So now he's getting it and I'm driving it into his head that everything is solutions and problems. I think, going back to that question was — people are not offering a solution to a problem. There is no problem there. They're offering a solution to nothing and nobody's buying it.
Heather: I love that. What an easy way of understanding it. You know, what I found is just like what we said with John on entrepreneur show, is that when you use content to do market research then you can develop a product. You can actually use your content to find out with your statistics what do people actually want. What are they commenting on? What are they sharing on social media? Which posts of yours are they reading? Which podcast episodes are most popular? That's what the market wants.
Andrew: That's a great point. We look at our posts. We know exactly which ones of our posts are most read. We know which topics people are into more than others. We focus on that; we don't write it off. We'll look at it and see why are some more interesting than others to people. Sometimes we've spent more time and effort promoting a specific topic, but overall we get to know what organically people are looking for and we concentrate on making that better. We strengthen our strengths and get rid of our weaknesses — if that's a saying.
Heather: Yeah. It makes sense. Do you remember our friend Laura Waage? Here's another great example. Laura Waage — she had a free piece of content on her blog about Pinterest when Pinterest was just coming out. It was so big that she actually developed an entire course, a membership course product on that exact blog post because people loved it. So this is where that whole paid versus free comes in. Free to test the water; free to get your brand out there. Paid is when you go into more of an in-depth, results-driven training or course or product or direct access to you as well.
Andrew: Definitely. The biggest problem is people are too scared to give away some good content. But, understand that if you give away your best content, there will be more to give. You'll find more to give. There'll be more people. People will have more questions. The more content you give; the more questions they're going to have; the more you'll be able to create even better content.
Heather: That's why we're doing this podcast for you guys right now and we have our blog posts, is because this is our way of connecting with you, seeing how we can help you based on statistics, based on feedback from you guys. The reason why we have Digital Traffic Institute is just for that. So people can actually come to us and ask us questions specific to their business.
It's just a different way of thinking about your business. Like you're saying, give away your best stuff and then have something there where people can access you, whether it is a full-blown course or it's just accessing you through coaching or consulting if you're service-based.
So think strategically. Again, work from what the market wants versus what you think they want.
Andrew: I want to ask you a question about free content because I'm —
Heather: Sure.
Andrew: — a lot.
What's your favorite free content? When someone says this is free, you're like, "Gotta have that." Is there a specific media that you like? What constitutes getting you to say, "Yep, I want it"?
Heather: Still my favorite too are videos — I stack up videos to watch and I'm like the multi-tab person, the bad person that has my Chrome open with 50 tabs.
Andrew: I think you're the multi-multi-tab person. When we do screen shares I'm looking at your tabs going, I can't even see a letter in those tabs.
Heather: I line up all these videos that I wanna watch so I have them all there. Then on the weekend, ideally my Saturday or my Sunday, I come in and, "Cool I'm going to consume some of this." So, videos. Then also the ongoing blog post here and there. But I find that I'm more probably of a video consumer because I like to engage and watch the person that I'm learning from.
Andrew: Have you — I was going over this tool before — have you bought yourself Enounce yet?
Heather: No, I'm gonna go get it now. Wait, say it out loud again so we all can…
Andrew: It's called Enounce. It's called MySpeed. Enounce by MySpeed. 20 bucks I think it costs you. I can not live without it. In fact, mine stopped working today and I'm like, whoa, whoa! on paying stations. You can listen to some podcasts; you watch your videos at three times the speed and still understand what's going on. It means that an hour video is twenty minutes. A twenty minute video is six minutes. It's crazy. I survive on that thing because it really makes a difference to what you're doing. I watch a lot of videos myself and there's nothing better than to flick it through. You know what I've even done — this is hilarious. You know some shows on Netflix? Oh, you don't have Netflix?
Heather: No — it is over here. Yeah, and it's sucking up our bandwidth across the whole country.
Andrew: Totally. But here's what I do. I'll stick Enounce on it maybe 1.4 speed so instead of a 40 minute show I could watch it in 30 without missing too much.
Heather: OK, so I have to ask then, because a big part of content is call to action. So if you're using your content to grow your business — don't ask, don't get. Right? So how do you nicely stick in call to actions in your content to get people to do the next thing with you whether that's to buy, sign up for your email list, share, comment. How would you put that in?
Andrew: I think the key thing is make it conversational so that it fits in that spot. There's times when you've gotta be alarmingly there. So for example when someone's about to leave your website, you have an exit intent, which is a pop-up that says before you go, did you know you could possibly get this? It's almost like having someone at a shop. Let's say you got a shoe — I keep saying shoe shop; I don't know why. One day I'm gonna buy a shoe shop.
Heather: You're like Al Bundy in Married with Children.
Andrew: Yeah, really. So if someone's walking out of the shop and they haven't bought anything the last ditch effort is, "Whoa stop, don't go, don't go." Don't you want a free pair of socks, or something like that. That's how I see an exit intent. Please! The last thing I want you to do is leave. Just do what you gotta do and sign up here.
But in a blog post, in a piece of content it could be a conversational thing like you're talking about a specific topic and you might do a comparison and it might say something like, "It's just like also this other piece that you've got here. In fact if you're interested in doing that just click here and we'll send you the download straight away," and then move on to the next topic. So it could be just a link to your next upload or it may even be a nice colored box that's got a call to action right now so that it all fits as they're reading it and they come over the box, the box is actually relevant to the content inside the actual piece as well.
Heather: And then in podcasts like you guys are listening to right now, you'll notice that right at the beginning of this podcast when Andrew said, "Hey, in this episode we're going to talk about this this and this," there's my voice that came in after with a mention of Digital Traffic Institute, so that's a call to action. You can do that in your podcasts.
Videos, that's in the intros and the outros. You can do it right in your actual video content itself but you'll notice that there's these little intros and outros where the video has your logo that flies in or a little bit of music or something like that. Often times people will do a little outro bit where it's a call to action. Gosh, our Kindle book — we put a call to action inside of our book. So even though, yes, it was a paid-for book, the first 10% of it was free as a teaser in Amazon; we put a call to action inside of that particular first 10% to take people back to a website.
Andrew: I'll tell you what else is missing in call to actions as far as content goes and that's in social updates too. Many times when people put links in a tweet and it might say we're discussing the latest practices of Internet marketing and then they just put a link. It doesn't actually tell you to do anything, it's just a link. Most people will generally know that they're going to click on a link. But if you have something like, "Click this link to find out how to avoid this trap," it's a call to action. It's more specific than just having a link there and you assuming they're going to click on the link too. So make sure you have some call to actions on in your content in your social platforms as well.
Heather: Where would you send a call to action, guys, that would be to — basically, a couple things — if it's just content, it's to a blog post whatever the page is that has the content but if you're actually asking them to buy something or sign up for an email list then you want to have a landing page which is where you send them. Gosh we've done so many podcasts on these but it's just a page that has an opt in box if you're giving away something for free where somebody can sign up for it or sales pages where you talk about the product or service and then you have the purchase option on there. So that's a call to actions; that's how you use those in your content. You send people to places where they can take the next step.
Andrew: Take the next step, yep. Perfect. Spot on.
Heather: There you go.
Andrew: Wow. Did we cover everything today? I think we almost have.
Heather: I think their key takeaway is that free content — Definitely give out good stuff to get good results. Simplify, though, what you're doing. I found that a lot of people try and give away too much in one piece of content. Just think that you want them to walk away with one idea or concept. That's why the TED Talks have gotten so popular, is because they're very short; they're very concise about one takeaway topic. So that's what you want to do in your pieces of free content as well.
People will not consume all your content, usually. If they're a fan, they still won't have time to consume all your content. So you don't have to worry that maybe you've given away everything you know across multiple pieces of content because not everybody's going to engage with all of it. So you can still package that up and sell that in packages.
Andrew: I'll go so far as to say that I reckon about 80% of people would not even consume their own content after they've recorded or created it.
Heather: Oh, come on. You don't listen to our podcasts?
Andrew: I do because I edit them. I do all the editing on this one. But you know what, seriously? You know I was saying the other day that we had a client who couldn't work out why they weren't making any sales — because they'd never tested their own sales process.
Heather: On their own shopping cart?
Andrew: On their own shopping cart. On their own website. They couldn't work out why they weren't making any sales and that was for like six months or so.
Heather: They have had a shopping cart up for one year and they never themselves tested to see if it worked by purchasing something.
Andrew: So check your own content; listen to it. You know what? I actually enjoy our content. I mean we're going to say this. I enjoy our podcasts because I learn some stuff. Even … I say, you know, I learned. I don't even know why I was talking about this. Consuming your own content, where were we going with this bit?
Heather: Just saying don't be scared to put out your best content and then try and sell it because selling a product is everything in one place to deliver a result. Whereas you can give lots of free content covering little micro points because it's scattered. It's still your best content but it's scattered all over the place. It's different. It's different than packaging it in some sort of product where there's an end result.
Andrew: I do remember what I was going to say. You were talking about — stay focused and give one piece of content. I was actually reading a forum today, a Facebook private group, and this guy said "Has anyone ever tested multiple trip wires on one page?" Trip wire being a product to sell for about seven to ten dollars. But once again, it's confusing the audience. A confused mind never buys. So stick to one thing. Stick to one thing that you're going to do. Have multiple different pages if you want and drive different segmented traffic to those pages but don't put everything on one page. That's just lazy and you'll lose money.
Heather: Yeah. Natural next step right? It's conversation. If you're reading this piece of content what's the next step you can take with me that makes sense to this piece of content.
Andrew: So a call to action would be go and leave us a review about these podcasts and Like these.
Heather: Hint, hint, wink, wink, guys.
Andrew: Alright that is great. I look forward to having the discussion with you next time.
Heather: Sounds good. Thanks guys for tuning in. We'll talk to you soon.
Andrew: See you later.