Hi everyone! A number of you have asked about tools for content creation, especially tools for recording and editing. Last week we showed you Skype recording, a tool we use to produce our podcasts, this week we'd like to show you another recording tool (and it's free!). Audacity is a recording and editing software that is open-source (meaning anyone can access the coding behind it, study it and improve it).  It is cross-platform and available on different operating systems, including Windows and Mac.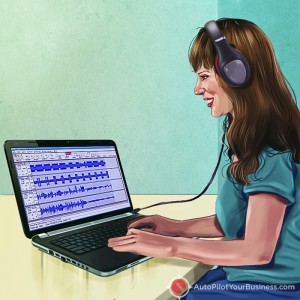 Why we love it…
You could spend a lot of money on recording and editing software but Audacity will do a reasonable job and will only cost you your time. They also provide tutorials for the many features available so you don't need to try and muddle through on your own.
What you can do with it…
Audacity has a number of features you can check out, here are some of the things you can do with the software;
Record live audio.
Got old cassette tapes, records or mini discs? Audacity can digitize them for you.
Record computer playback.
Import sound files and combine or mix with your live recordings.
Edit audio recordings.
Edit effects such as pitch, tempo and background noise.
Audacity is a great tool for audio recording, the only thing we would say is that, being that it is free and open-source, technical support may be limited where modifications have been made to the software. Apart from the tutorials, they also have help available through their contact form and the Audacity Forum.

What tools for content creation are your favourites? Do you use a different recording software? We'd love to hear from you in the comments!